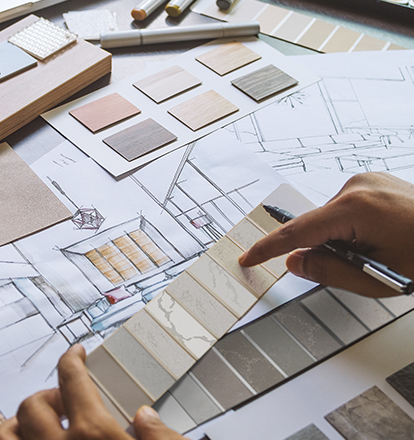 Your creative journey,
our guidance
Hiring the right professional
Who do you want to help you achieve your dream kitchen? How do you choose the right one for you?
Kitchen Studios offer a one-stop-shop for all your project needs, from design to installation. Their expertise is in helping you make the most of your space.
Architects or interior designers are required if your new kitchen is part of a more significant project, such as an extension. They can help design and source a new kitchen and have ideas to make this work with other unique spaces you may create.
There are many good independent kitchen and bathroom fitters in the market. They will be able to source cabinets for you, although you may have to be more involved in the design of the space. In addition, they can help you fit appliances that can be purchased online, while Caesarstone can help find a good fabricator in your area to fit the crowning glory, a new worktop.
Things to Consider
Consider which professional that you might need and ask for references and to see work examples
Get a quote for the project, and discuss the invoice schedule, including changes in plan
Check if any building permits are required
Finalise the whole layout (including utilities, appliances, lighting fixtures, and storage space)
Sign a detailed contract before work starts
An architect may be required for structural changes and the relocation of utilities, though many kitchen and bathroom studios can help to manage this. Some professionals can organise all the trades involved, or you may want to hire them independently in a DIY project. A fabricator or stonemason is often involved in partial refurbishments. If you keep your existing cabinetry, they can often be the best person to contact for a new worktop.