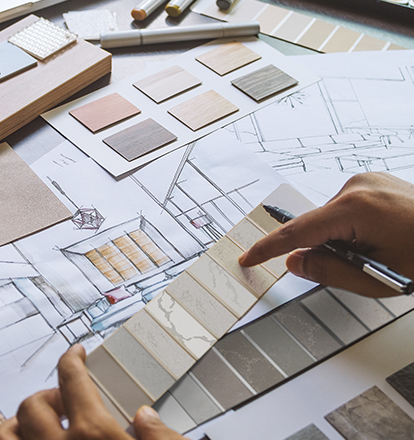 Your creative journey,
our guidance
Buy your worktop
If you are working with a Kitchen Studio on your new space, they will manage your Caesarstone installation for you. In addition, Caesarstone works with over 3,000 independent kitchen studios and other home retailers nationwide.
However, many people buy their Caesarstone directly from a stonemason or fabricator – companies specialising in stone worktops. As part of this process, it can be useful to view a whole slab that usually comes in approximately 1.4m x 3m to 1.6m to 3.2m or a large display. You can visit a fabricator's showroom, yard or Caesarstone showrooms in Manchester or London, or visit the London Studio via the virtual tour. The complete slab look will give you the best view of the pattern and colour of the material.
Things to Consider
Make sure you get like-for-like comparisons from multiple fabricators for your preferred Caesarstone worktop
Decide where to buy your surface
Fix a date for templating and installation
Consider your cooking and eating options while the installation is taking place
Work with an established fabricator who can provide prior Caesarstone references
Find a location near you to buy your favorite surface