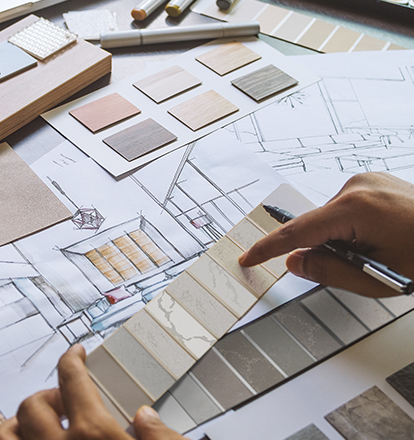 Your creative journey,
our guidance
Worktop first
Get excited; it's time to fall in love with your favourite Caesarstone surface. As the heart of your home, it's central to so many daily activities, so deciding on it first ensures you'll create that special place of interaction and inspiration.
Things to Consider
Find the colour you like best, or narrow down your selection
Order samples
Verify the available finish
Explore edge profiles
Pair your cabinet colour with your chosen surface and build the rest of the kitchen from there.
Think of the rest of the materials that will co-ordinate (flooring, wall colours, etc.)
Visualise your surface in 3D space
Visit a Caesarstone studio or see the surface at a location near you. Alternatively, try a virtual tour of Caesarstone's London studio
The Caesarstone colour catalogue is a great place to start narrowing down your choice. There you will find colours, patterns and textures to suit every style and a gallery of images for each to help you choose.
Tools
Discover your surface in our portfolio of colours
Visualise your favourite surface in 3D
Request a sample of your favourite colour