Reading:
Caesarstone launches Master of Stone™
Caesarstone launches Master of Stone™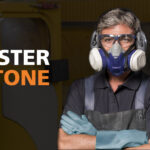 Free industry-wide online training centre for every stone mason and fabricator in the UK
Master of Stone™, a unique health and safety and professional standards training programme for fabricators, has launched in the UK. It includes an online training centre that covers multiple topics including health and safety, professional know-how, and value add content for fabrication plant managers. The programme is free and available for use by everyone in the industry.
"We are delighted to launch the Master of Stone training programme in the UK", said Amir Reske, Managing Director of Caesarstone UK & EMEA. "Since we set up our UK business more than five years ago, we have promoted health and safety industry best practice to our customers, starting with the Caesarstone University. As our business has grown, we have moved this training material online in order to make it more accessible to those working in the industry. Master of Stone is the next step in this evolution and the e-learning modules have moved the industry forward again. The development of the program is an investment in our wider industry, and Caesarstone is committed to establishing a safe working environment for everyone operating within it."
The Master of Stone™ e-learning modules cover areas such as air monitoring, water integrated machinery, respiratory protective equipment, and installation safety. They can be easily accessed on any PC, laptop, tablet, or mobile phone. Globally, around two thousand fabricators have already completed the training modules, which can be done in under an hour. They then receive their Master of Stone™ certificate.
By following simple guidelines, stone fabrication, including granite, marble, limestone and quartz and other construction materials, is 100% safe.
Reske continued, "We have to keep working in such a way that protects and promotes health and safety in the workplace and the long-term sustainability of our industry, which is reliant on the raising of professional standards and the protection of all those working throughout the supply chain. A race to the bottom, in any sense, inevitably leads to compromises on health and safety, material quality, craftsmanship, service and industry professionalism, which in turn will set the fabrication industry on a declining path."
Having conducted global research, Caesarstone learned that while information existed globally in relation to prevention measures for industry related respiratory related conditions, there were significant gaps and inconsistencies. To meet this real need within the industry Caesarstone decided to take on a project to develop a training programme to provide a platform offering health and safety and professional information for those who fabricate stone anywhere in the world.
In 2018 Caesarstone underwent a formal process to articulate and better communicate their values. Amongst these values, all of which are listed in their recent ESG report, their People First value led to the development of the Master of Stone™ programme which has been running since 2019. Beginning with the publication of a Good Practice Guide, this document detailed how to ensure workers fabricating stone worksurfaces could do so in a safe environment. This was handed out to fabricators that work with Caesarstone in conjunction with Safety Data Sheets, containing further technical and safety information. Currently more than 650 UK fabricators have received these publications.
The Master of Stone™ programme now consists of several components, including a website, online training centre, certification, and educational and awareness materials – all of which are now available free to everyone in the industry, not just those who work with Caesarstone.
The goal of the program is to provide educational information and training, presented in straightforward, clear and digestible manner. The training programme is now available in 10 different languages.
Through Master of Stone™, Caesarstone emphasise that safety is a crucial part of a fabricator's professional skills. The unique and innovative online training centre contains nine training modules, which in total take about an hour to complete, at the end of which the participant receives their Masters of Stone certificate. The training can be completed on mobile or desktop and is split into short and engaging modules to make this an easily accessible programme for busy fabricators.
Gaining access to the Master of Stone™ online training centre and additional health and safety information is as simple as contacting your local sales representative or emailing [email protected]. A code will then be provided that will allow anyone to participate in the learning modules hosted on the Master of Stone™ website.
Notes to editors:
As expressed in their recent ESG report Caesarstone is committed to conducting all activities with the highest regard for the safety and health of its employees, business partners, customers, consumers and the general public. The Caesarstone vision is a safe, clean, dust-free workspace for the entire stone industry and to achieve this they developed the Master of Stone™ programme. Master of Stone focuses on working to create a workspace free of the dangers of potentially hazardous respirable crystalline silica dust (RCS) particles.