Reading:
Caesarstone launches Darcrest
Caesarstone launches Darcrest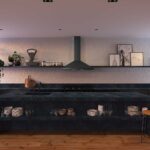 Caesarstone introduces dark worksurface inspired by mountainous rock formations
Pioneering surface brand Caesarstone has announced the launch of its latest surface. Inspired by the slow process of mountain formations, and the weathering process which gives them their shape, 5820 Darcrest is an ode to the outdoors and geology.
This layered design addresses an appetite for a darker aesthetic in the kitchen, a trend which is taking the kitchen industry by storm. 5820 Darcrest joins existing Caesarstone surfaces, including 5810 Black Tempal, 4735 Oxidian and 5101 Empira Black to help homeowners and kitchen designers achieve this bold, striking look.
5820 Darcrest boasts a dark earthy base, enriched with tiny spots and sediments evoking the look of rocky topography slowly accumulated over many millennia. Weathering gives shape to archetypical ranges, while mineral deposits are carried by rains, streams and melting snow.
The orogenic process of mountain making takes place over hundreds of years, from gradual tectonic shifts to dramatic volcanic eruptions, and Caesarstone has endeavoured to recreate this journey in 5820 Darcrest.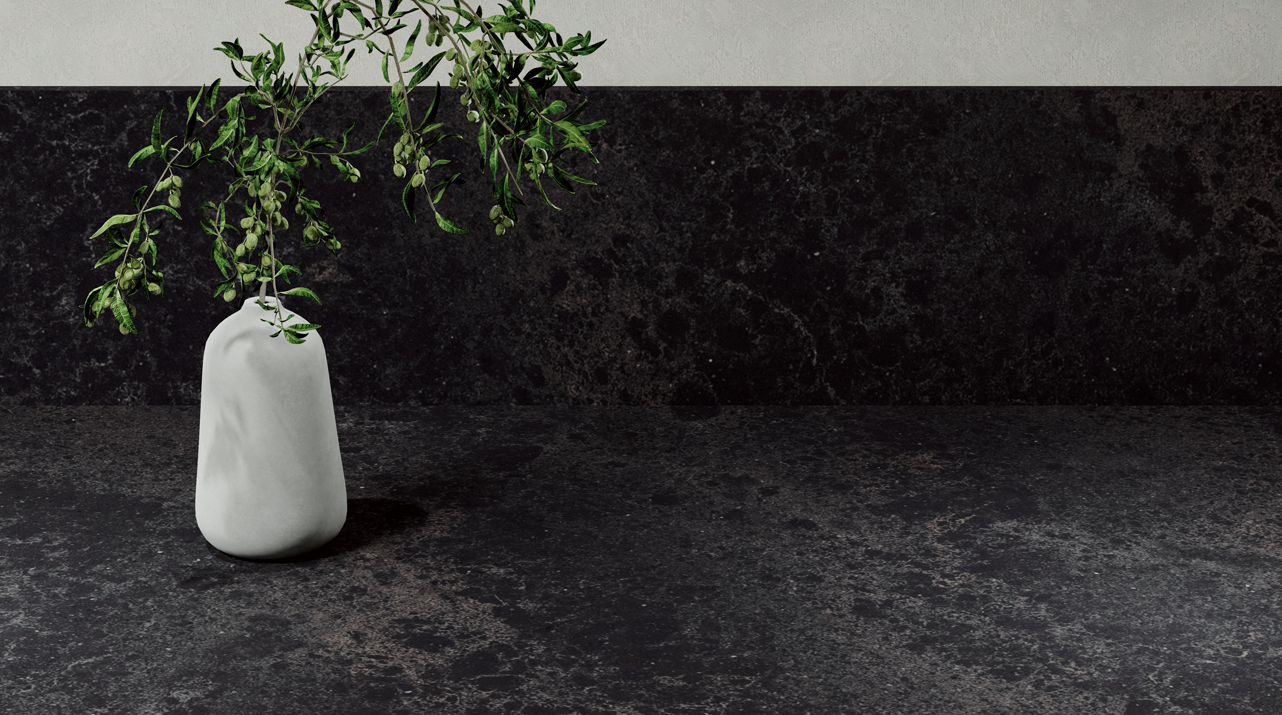 On this work surface, this slow and gentle erosion is revealed through a translucent veil of freckled ochres and brownish greens, achieving a stunning aesthetic and overpowering depth. The mysterious organic presence is further enhanced by its honed finish, which is smooth to the touch.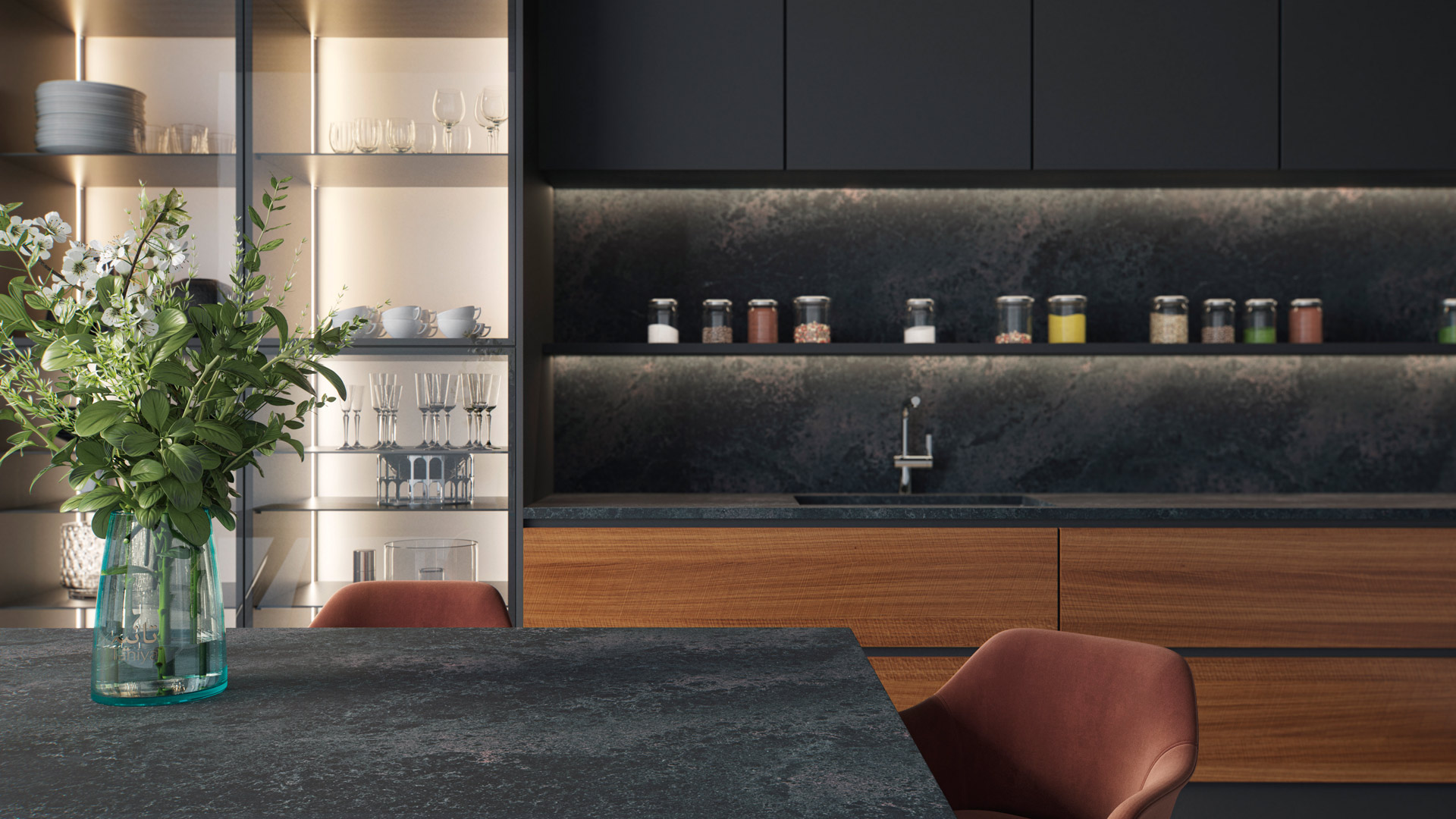 5820 Darcrest pairs beautifully with brushed hardware, copper or burnished brass. This dark and alluring work surface will suit a plethora of kitchen colour palettes, including brown, grey, black and rust.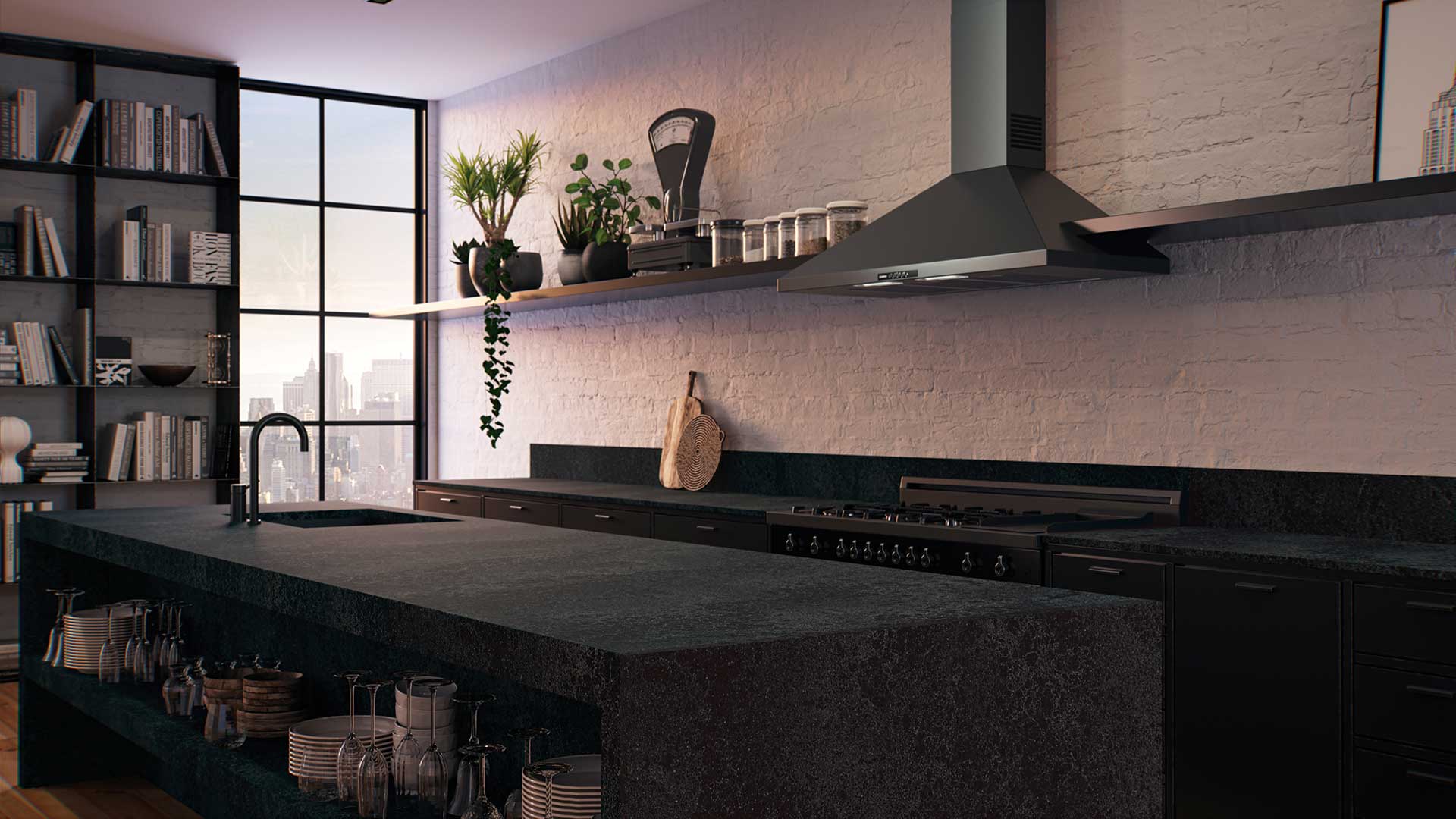 Caesarstone's quartz surfaces combine nature with technology to produce stone surfaces that are durable, flexible, scratch resistant and beautifully sophisticated. Caesarstone prides itself on its design expertise and all surfaces are designed and carefully curated in-house by the brand's global HQ team. 5820 Darcrest has been developed to meet Caesarstone's recent environmental pledge, which looks at how the design brand can best protect nature and the environment in the production of its quartz surfaces. In keeping with acknowledging health & safety regulations, social responsibility, environmentally responsible production, and sustainable products, the design and development of 5820 Darcrest has been meticulously and carefully considered.
By working closely with its suppliers, Caesarstone ensures the materials used in the production of its quartz surfaces are of the upmost quality – thus adding to the long-lasting and sustainable nature of its products. Furthermore, by 2025, the company intends to reduce energy use by 10%; recycle water and reduce its use by approximately 10%; and reduce air pollution levels by 5%. These factors, combined with the intriguing design story behind the 5820 Darcrest, highlight the importance of nature and its ability to inspire our homes and interior choices.
5820 Darcrest is available now, priced from approximately £400 per sqm depending on final design specification. For further information on the range, as well as details on how to order samples, contact [email protected]
Notes to editors:
About Caesarstone
Caesarstone is a concept and lifestyle-driven company with a customer-centred approach to designing, developing, and producing high-end engineered quartz surfaces used in residential and commercial buildings. Caesarstone® products offer superior aesthetic appeal and perfected functionality through a distinct variety of colours, styles, textures, and finishes used in worktops, vanities, and other interior surfaces. Marked by their inherent longevity, characteristics such as non-porousness, scratch and stain resistance and durability, the company's product umbrella offers a highly desirable alternative to other surfaces. Strong commitment to service has fostered growing customer loyalty in over 50 countries.
Further details regarding Caesarstone's ESG report and environmental policy can be found here: www.caesarstone.co.uk/our-environmental-commitment.