Reading:
The Art of Darkness
Caesarstone launches captivating collection to meet growing trend for darker interiors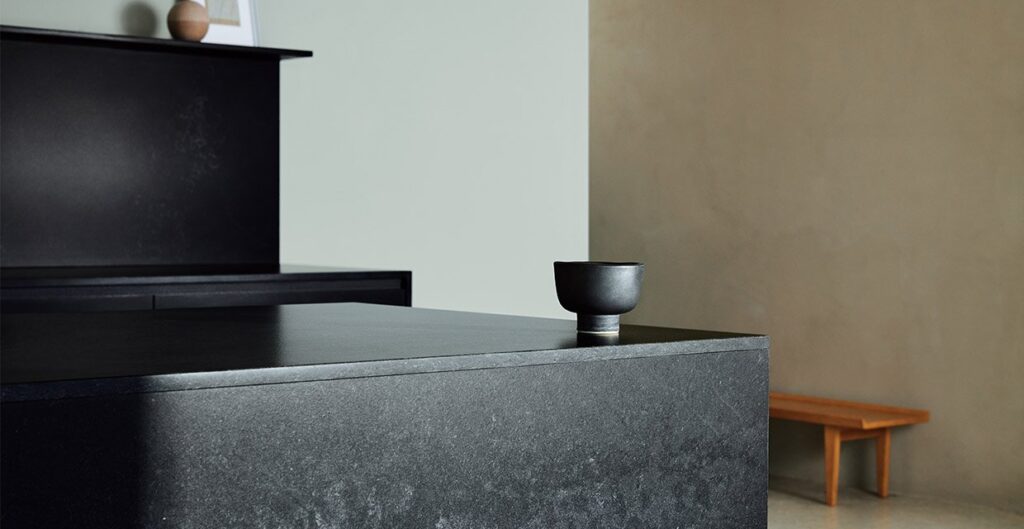 Caesarstone continues to spearhead the market for innovative surfaces with the launch of three dark, sultry shades.
In response to a growing demand for darker kitchens and bathrooms, this new quartet joins the Caesarstone family to offer consumers a striking alternative to conventional worktops. Today, shades of black and grey have been reconsidered as modern classics, used either as a stark accent or to create a powerful overall look. Dark slate and stone, along with oxidised metal and black lacquered wood, are among the remarkable materials being combined in dramatic interiors and hospitality spaces, inspiring Caesarstone to introduce this new series as an antidote to lighter surfaces and colour palettes.
The collection – several years in the making – takes its lead from the desert and the great outdoors, where Caesarstone's in-house design team ventured to help shape the look and feel of the new products. Inspired by the organic materials found on their travels, the team experimented with how different stones hold colours at night. The following video shows the in-depth processes and inspiration behind these new products.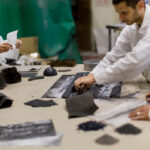 Describing the design process, Caesarstone's global head of design, Mor Krisher, comments: "We look for inspiration everywhere and in order to design a series of products that truly captured the trend for dark interiors and kitchens, we turned our attention to the outside world, to the desert landscapes where natural stones are scorched by day and frozen by night, weathered by this endless cycle to produce the most wonderful patinas and textures.
We studied a huge variety of black and dark stones and they all had their own characters, some very simple and minimalist and some which were full of detail and vibrancy. They all evoked different feelings within the design team; some stones felt naturally warm and comforting, while others had patterns and texture that felt epic in scale, reminiscent of the vast and rugged landscape from which they came.
We knew that it was essential to define these details in the new collection, to understand the different characters to that we could bring these elemental aspects of nature into people's homes.
There is an organic quality to Caesarstone products, and this is just as important with dark colours as it is with our marble and granite styled surfaces. This is what we want in our homes; a visual and tactile connection to the outside world."
Speaking of the new designs, Caesarstone UK MD Amir Reske adds: "The Caesarstone portfolio continues to go from strength-to-strength and having first previewed the new designs to key trade partners earlier this year, we are delighted to officially bring them to market this month. From the classic luxury of Empira Black to the evocative patinas of rusted Oxidian and weathered Black Tempal, the 'dark theme' is the finest example of Caesarstone's design credentials since the launch of our ground-breaking Metropolitan Collection back in 2018. It is a testament to our unique design process and our incredible R&D team that we have managed to achieve this stunning collection, and superbly demonstrates how we, as a brand, continuously monitor the latest design trends to shape and inform our newest ranges."

5810 Black Tempal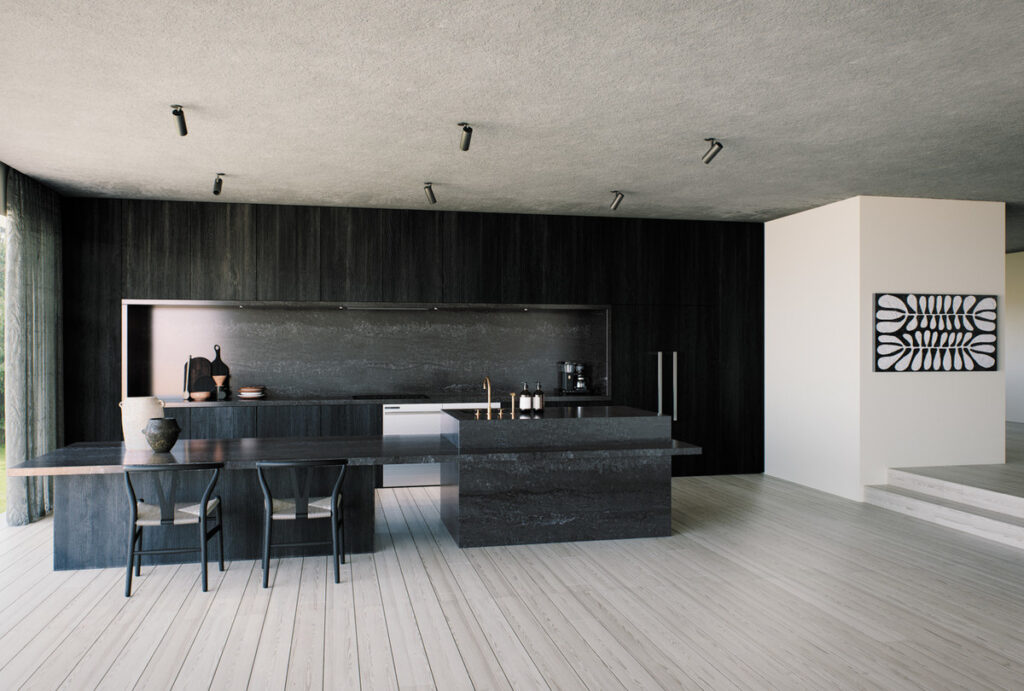 Joining Caesarstone's ground-breaking Metropolitan Collection, Black Tempal has soft, mineral deposits that give rise to a delicate veil of warm whites, which contrast with the sturdy black charcoal base. Its textured, complex, industrial composition reflects a captivating interpretation of travertine, as its finish enhances the colour's depth with warm, granular highlights. Black Tempal's organic essence pairs well with humble materials such as rough slate and raw concrete, working together to create a striking juxtaposition of colours and texture.
5101 Empira Black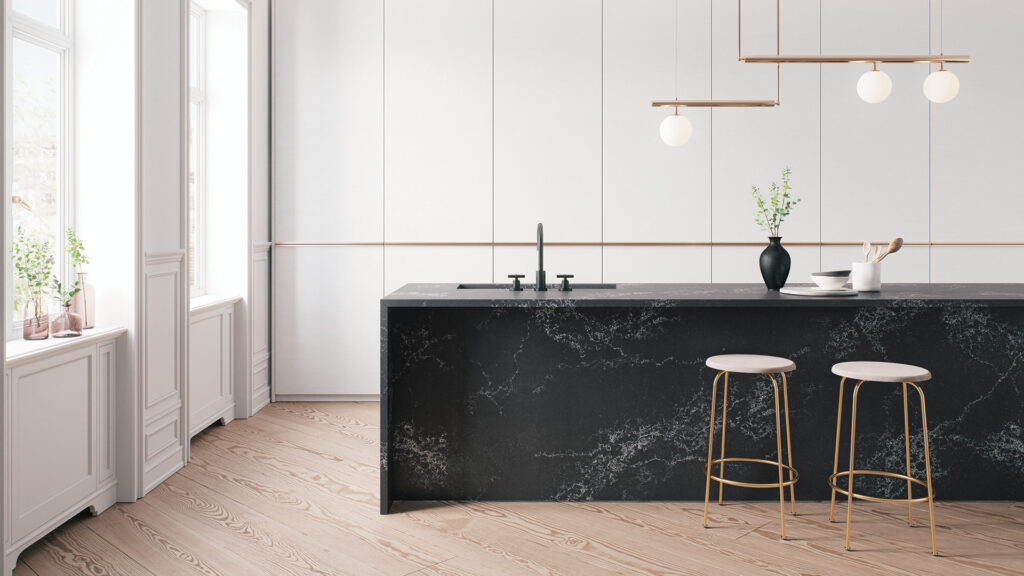 Encompassing the mystery of dark stone, Empira Black has a dark base composed of rich, deep black, beautified by fine, white natural veins. Inspired by the authentic characteristics of natural forms, Empira Black endows any space with the sophistication of marble, transforming any room into a luxurious experience – be it residential kitchens and bathrooms to fashionable hotels and hospitality spaces. Its creative interpretation of natural stone brings a level of sophistication and timeless, classic quality to any interior. Empira Black is the latest addition to Caesarstone's Supernatural Collection – evoking the look of marble, with the enhanced technical properties of quartz.
4735 Oxidian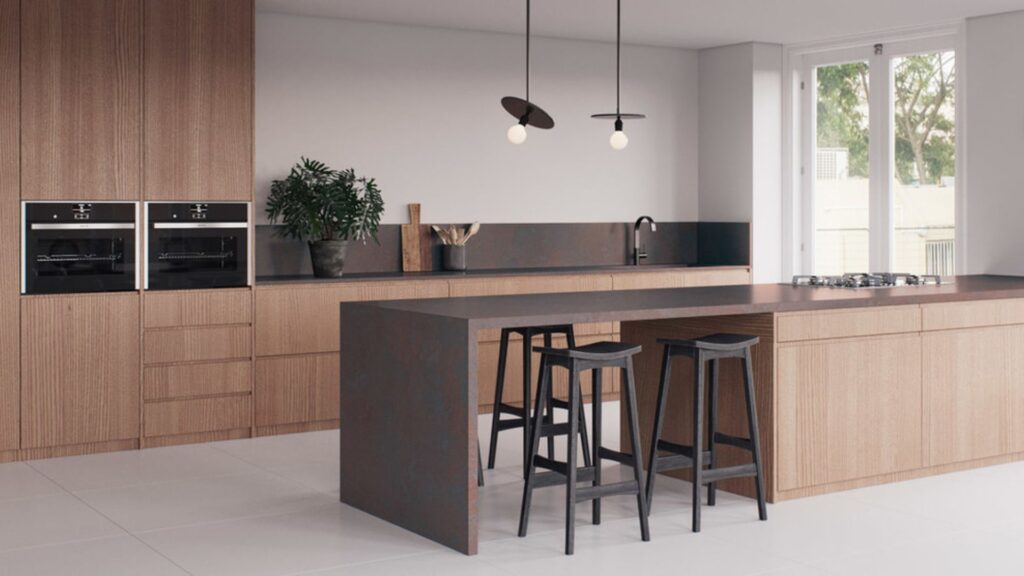 Another new addition to the Metropolitan Collection, Oxidian celebrates the industrial aesthetic of patina and the tactile experience of touch. A dark grey base with true depth, the Natural Finish (see further details below) of Oxidian presents a slightly textured grain that consumers can truly feel. Tarnished with an oxidised russet effect that is distributed unevenly, just like real rust, Oxidian is a trend-savvy, aged surface that maintains the practical durability and low maintenance synonymous with all Caesarstone products.
Two of the designs – Black Tempal and Oxidian – are enhanced by the brand's new Natural Finish; a slightly textured appearance that adds warmth and tactility to the surface. A satin sheen also gently reflects light while enhancing the colour and depth. Alongside its aesthetic and tactile benefits, Caesarstone's Natural Finish reduces the impact of marks and fingerprints, thus guaranteeing the minimal care and maintenance routine associated with all Caesarstone products. Empira Black, meanwhile, is available in a sleek polished finish, further aiding the sophistication of this particular worktop without compromising on practicality.
These three new dark shades join several other existing colours in the Caesarstone collection that are enjoying growing attention as home owners and designers turn increasingly towards black and dark grey surfaces; 5100 Vanilla Noir, 3100 Jet Black, 4120 Raven and 5003 Piatra Grey. All are available in Polished Finish.
The new Caesarstone dark themed designs are available nationwide.