Reading:
New for 2019: 5151 Empira White by Caesarstone
New for 2019: 5151 Empira White by Caesarstone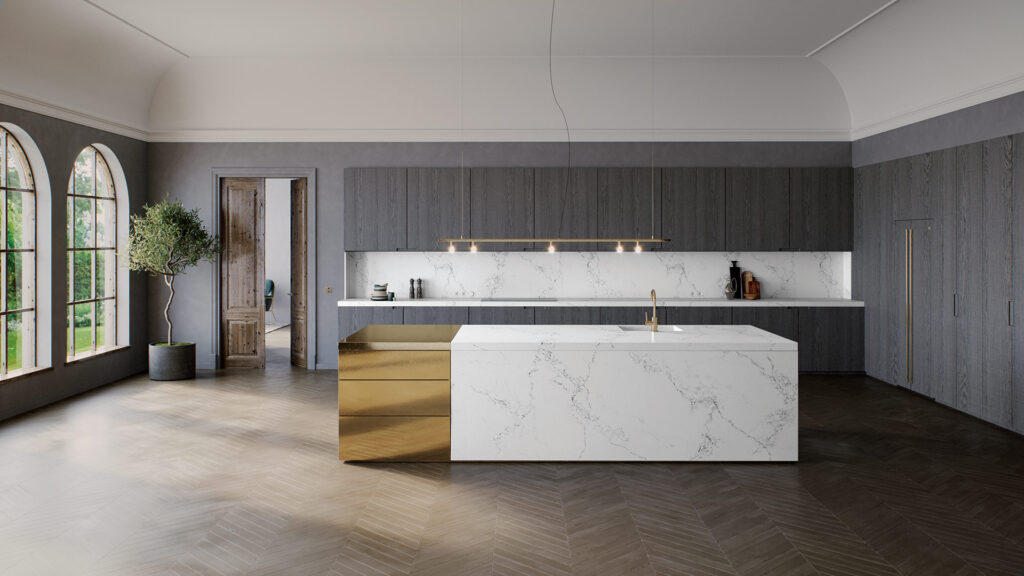 For a thousand years, marble has been appreciated and desired as one of nature's most luxurious stones, immediately adding grandeur and glamour wherever it is used. As a material, it is timeless.
Today, marble is as desirable as ever, albeit with a somewhat more relaxed, softer and more organic appeal; a chance to bring nature into urban interiors, a connection to the earth around us and a natural contrast to other man-made materials. This desire to be closer to the elements, coupled with our deep-rooted connection to marble, has made it the fashionable choice. Its image adorns everything from food packaging to high fashion. Marbling has become the motif for the new millennium.
Of all marbles, Calacatta is perhaps the best known and 5151 Empira White is Caesarstone's newest interpretation of this most famous material.
Empira White is a unique marble quartz. Its classical white base is luminescent whilst dominant, almost-black veins dance across the surface, delicately traversing the stone slab creating an intriguing interplay between dark and light. Alive with emotion and movement, the veining structure is a refined whisper of fine lines atop shadowy alluvial layers that add tremendous depth. Empira White is a sophisticated surface, combining the organic allure of natural stone with the durability and easy maintenance that are synonymous with the Caesarstone name.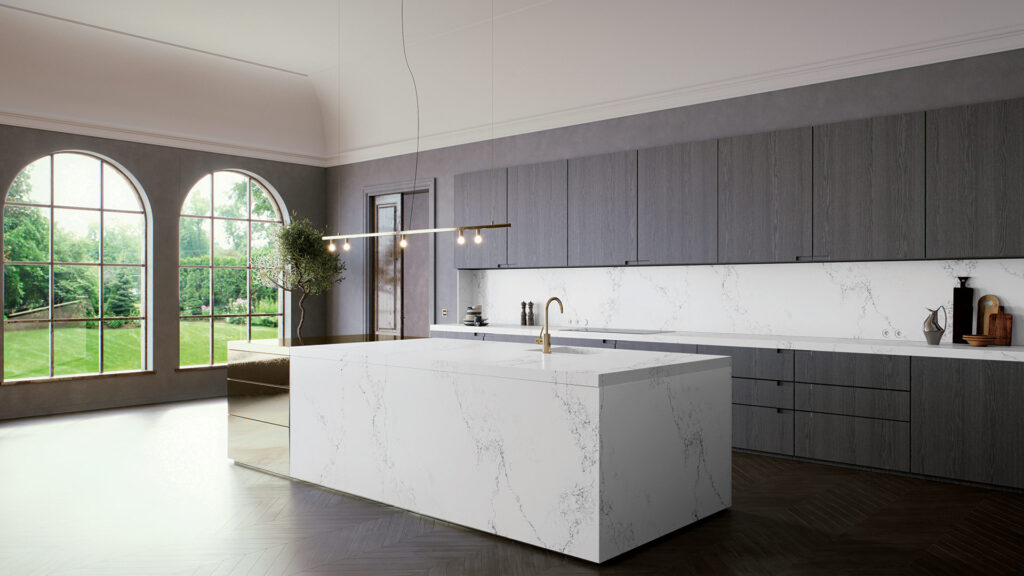 Jon Stanley, VP Marketing for Caesarstone UK says: "Marble continues to be one of the most desired stone styles for UK kitchens and bathrooms, demonstrated by the ever-growing interest in our Supernatural and Ultranatural collections. We expect this trend to continue through 2019 and into 2020. Sophisticated and stylish, marble adds glamour to any interior space."
He continues, "Empira White will join the Supernatural Range, a collection that mirrors the complexity, emotion and nuance of natural stone whilst delivering superior quality and durability".
Empira White has a polished finish and will be available in two different thicknesses, 20mm and 30mm. It is made from premium engineered quartz stone which, unlike real marble, is stain, scratch, crack and chip resistant. It is also non-porous and extremely heat and cold resistant making it the ideal material for kitchen and bathroom surfaces.
Visit the Catalogue Page for more images of 5151 Empira White