Reading:
Caesarstone x Snarkitecture collaboration announced as a finalist in Surface Design Awards 2019
Caesarstone x Snarkitecture collaboration announced as a finalist in Surface Design Awards 2019
Caesarstone, the world-leading designer and manufacturer of premium quartz surfaces, has been announced as a Surface Design Awards finalist for the thought-provoking 'Altered States' collaboration with NYC art and architecture practice, Snarkitecture. The installation has been shortlisted in the "Temporary Structure" category for its impressive, week-long exhibition in a 19th century neo-renaissance building during Fuorisalone, Milan 2018.
"These awards are regarded as exceptionally prestigious by both Caesarstone and the Architect & Design community, so we are very pleased to have been shortlisted," says Jonathan Stanley, VP Marketing for Caesarstone. "Altered States is a project that explores the creative possibilities of our material from an architect firm's imaginative and external viewpoint which stretches far beyond the traditional, static surface application of quartz."
Altered States by Caesarstone x Snarkitecture
Caesarstone commissioned Snarkitecture to create 'Altered States' for Fuorisalone 2018, Milan with the aim to inspire architects and designers to reflect on the future of the kitchen and the use of Caesarstone quartz surfaces in new ways. The installation was presented in Milan, at Salone del Mobile 2018, inside Palazzo dell'Ufficio Elettorale di Porta Romana, a 19th century neo-renaissance building, currently being redeveloped into the Milan EDITION Hotel.
At the centre of the space, a majestic circular kitchen island, made of multiple layers of Caesarstone quartz, explored the changing states of water – from ice to liquid to steam. Surrounding the island was an amphitheatre of over 250 metal mesh pedestals using three different Caesarstone designs from the new Metropolitan Collection. Altered States presented Caesarstone surfaces in a highly engaging and interactive structure, further highlighting the strength, flexibility and versatility of the material.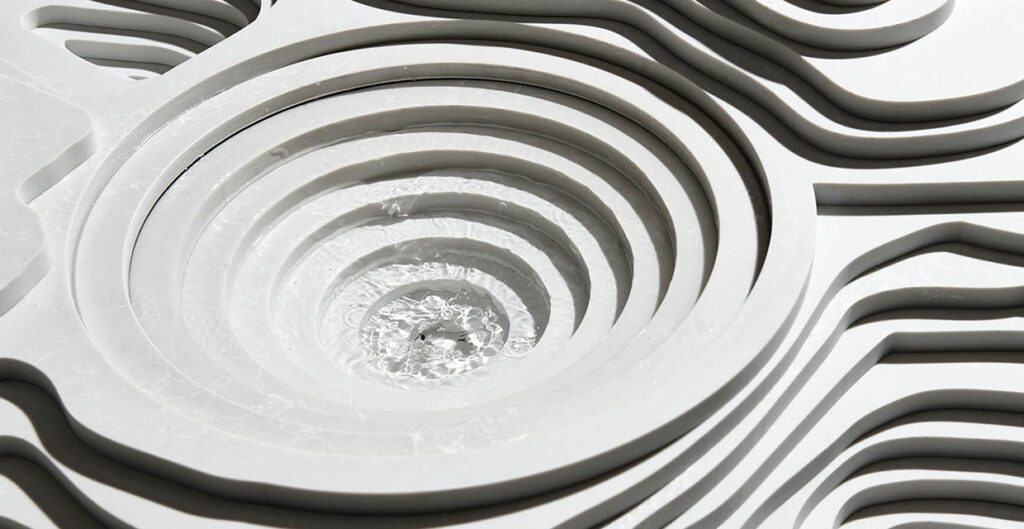 Progressive techniques and a level of exceptional craftsmanship were applied to the making of Altered States. Jonathan Stanley from Caesarstone explains: "The installation's design required meticulous precision. The central island was made out of multiple layers of perfectly circular Caesarstone sections cut to varying radiuses with CNC machines and hand-polished afterwards to ensure smooth edges and a polished look. The banding that enclosed the curvature of the island was created by using a specialist technique for bending hard-surfaces, called thermo-forming."
Award success for Caesarstone
The Surface Design Awards finalists announcement accompanies several more promising award opportunities for Caesarstone in November: The Metropolitan Collection has been shortlisted for an FX Award, Mixology North and an ek&bbusiness industry award with winners announced for both in upcoming weeks. Furthermore, Caesarstone was revealed as the Designer Kitchen and Bathroom Gold Award winner for Innovation in Kitchen Products in October.
The winners of the Surface Design Awards will be announced at an awards ceremony on 7th February 2019 to coincide with the closing of the Surface Design Show.