Reading:
Caesarstone wins Best Surface Award at EK&B Business Awards 2017
Caesarstone wins Best Surface Award at EK&B Business Awards 2017
Caesarstone is delighted to announce that it is has won another award for its beautiful quartz surfaces; this time for Rugged Concrete, the highly innovative new surface launched in 2017 in the UK Market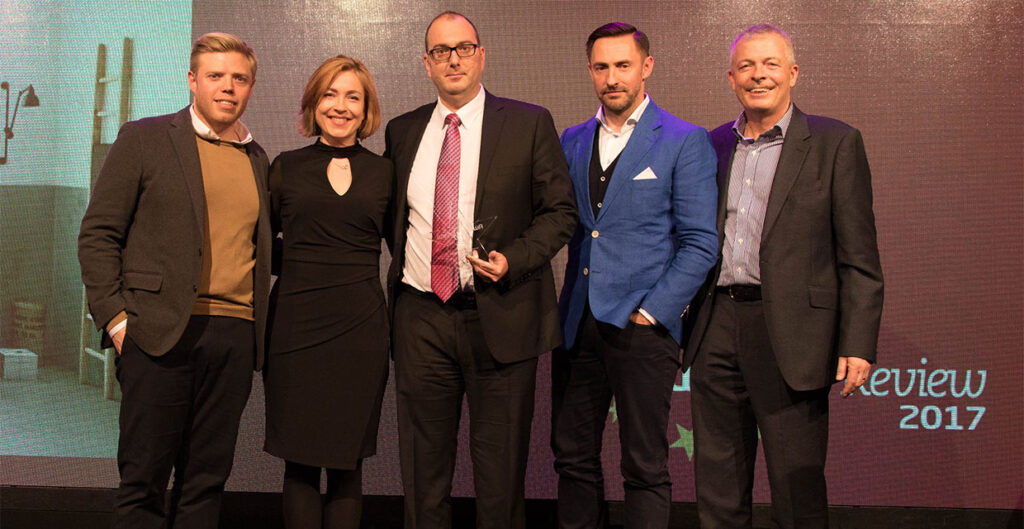 "We are proud that the innovation and ambitious product development behind Rugged Concrete has been recognised with this prestigious industry award," comments Amir Reske, Managing Director for Caesarstone UK. "Our design team is continually pushing forward the boundaries of quartz surface possibilities and this latest creation is an outstanding demonstration of what is possible when you harness the beauty of natural stone and enhance it with science."
The concrete trend has been around for some years, featured on TV and in high-end architectural and interior design magazines. Cast concrete kitchen worktops are becoming highly fashionable, but there are a few shortcomings: a specialist is required, it is costly, can be messy and time-consuming to make; prone to cracking, staining and bacterial growth. It also needs considerable maintenance.
Caesarstone's objective was to deliver a surface with all the aesthetic qualities, charm, even imperfections of cast concrete but without any of the shortcomings. In addition it should have all the benefits of high quality Caesarstone quartz: easy installation, simple maintenance and robustness.
Caesarstone's PR Agency DMC PR also scooped the Award for Best PR Campaign to communicate Caesarstone's direct distribution in the UK.
"Caesarstone has set itself a target to ultimately be the number one quartz brand in the UK, and having two recognised industry awards for its product and one for its PR communications is an excellent indication that we are on the right track to achieving our goals", concludes Amir Reske.
The EK&B Business Awards are presented to the best of the best, as selected by their distinguished judging panel, and looks back over the previous 12 months to shine a light on all the key moments for kitchens and bathrooms. The winners were announced in a glamorous awards ceremony at the Brewery on Thursday 30th November 2017.