Reading:
Caesarstone UK launches first Porcelain Collection
Caesarstone UK launches first Porcelain Collection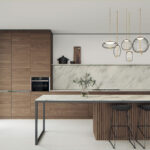 Caesarstone, pioneers of the quartz worktop category over 35 years ago, have released their first Porcelain Collection in the UK. The new range contains more than 20 unique surfaces and launches to the market this July and is offered with a first of its kind lifetime warranty.
Caesarstone announced their intention to move into the porcelain surfaces market in August 2020. What followed was an intensive design and manufacturing programme spanning almost two years, as internal teams from design, R&D and manufacturing focused more than three decades of stone surfaces experience in the creation of the brands inaugural porcelain collection.
The company will now offer premium porcelain and quartz surfaces under the same Caesarstone brand, as it looks to strengthen its reputation as the global multi-material, premium workrtop specialists.
"There is a lot of excitement around the new Caesarstone Porcelain Collection", said Amir Reske, Managing Director of Caesarstone UK and EMEA. "Caesarstone Porcelain marks a leap forward in design, technology and functionality. We previewed the collection at this years KBB show and industry feedback was very positive; the design prowess of our brand was, we were told, clearly evident. Over the last six months, we have also shown our new surfaces to a selection of fabricators across the country, and they have had a chance to work with the material. The results have been very impressive, and all of the fabricators have huge confidence in Caesarstone Porcelain."
He continued, "Caesarstone UK has grown significantly since our launch five years ago. The introduction of Caesarstone Porcelain is another major milestone in our growth plans as we continue to reinforce our reputation as the go to brand for premium worktops."
As with Caesarstone Quartz, Caesarstone Porcelain has been created with premium quality in mind. Each high-performing slab embodies innovative properties that elevate Porcelain for the ultimate experience both by fabricators and end-users. Caesarstone's surface expertise and cutting-edge knowhow combine to create surfaces that are aesthetically captivating whilst delivering a high degree of durability and strength. This innovation is characterised by three properties:
Forward Design achieves striking colour schemes, bolder veins, palpable textures, and magnified patterns in breakthrough surfaces that are simple to care and maintain, in Honed or Ultra Rough finishes that accentuate their design.
Fortified Frame provides an extremely hard surface, incredibly resistant to scratches, pressure, and rupture, enabling it to stand up to the most demanding high-volume use.
High-Heat Structure forms a resilient surface that is extremely resistant to high temperatures, enabling direct contact with heated objects. The blend of natural ingredients secures UV resistance, for outdoor use.
As well as being easy to fabricate, Caesarstone Porcelain is highly durable and well suited to the kitchen environment. Heat resistant, scratch-resistant, non-porous and stain resistant properties ensure that it is easy to maintain, providing long-lasting beauty for the end-user. It is backed with a lifetime warranty for all residential applications.
When it comes to design, Caesarstone Porcelain presents a remarkable new aesthetic that is redefining kitchen worktops, with richer colours, bolder designs, larger patterns, and wonderful tangible textures that weren't previously available due to the nature of the quartz manufacturing process. Work on the new collection involved a lengthy mapping phase, which started with a broad study of trends that encompassed not only kitchens, but also fashion, the home, colours, materials, and much more. The new range will contain over 20 colours all of which align to Caesarstone's current collections; the Metropolitan Collection – a diverse collection of designs that celebrate the industrial aesthetic; the Supernatural Collection – a comprehensive suite of evocative surfaces inspired by the limitless beauty of nature; and the Classico Collection – elegant shades that provide a classic foundation for any interior.
For further information please email [email protected].
About Caesarstone
Caesarstone is a leader in the global surfaces industry with a primary business in designing, developing, and producing high-end worktops. The company is renowned for its aesthetic superiority and technical excellence, having pioneered the revolutionary quartz surface sector since 1987. Caesarstone products offer high-performance functionality in a variety of colours, styles, textures and finishes across the interior surfaces category. Headquartered in S'Dot Yam, Israel, Caesarstone sells products in 50 countries and is traded on the NASDAQ (CSTE) in New York.