Reading:
Caesarstone - the property show worktop of choice
Caesarstone - the property show worktop of choice
Caesarstone quartz chosen for multiple George Clarke home transformations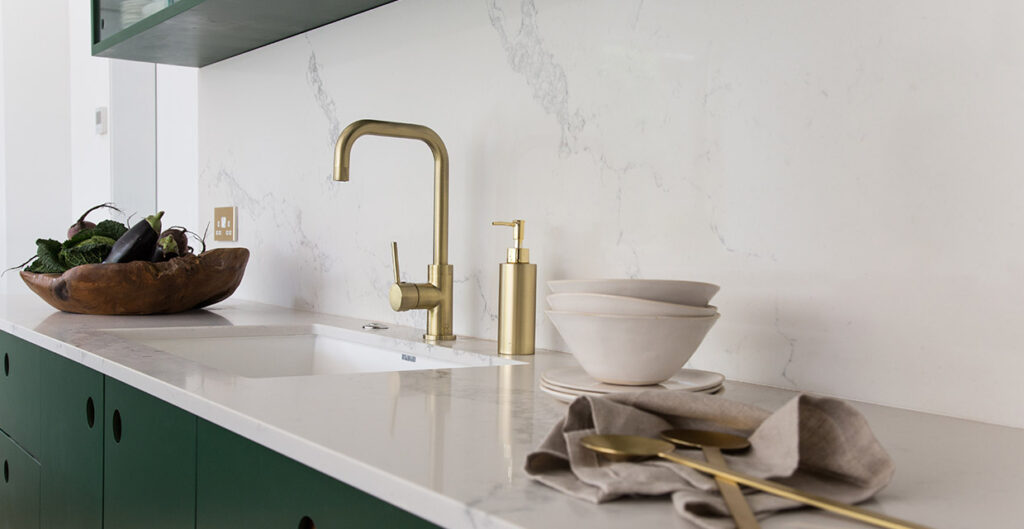 The Caesarstone collection has taken centre stage in six home makeovers on Channel 4's flagship property shows in the past year. Since 2018, Caesarstone features in the transformation of six stunning home renovations under the expertise of celebrity architect and property renovation expert, George Clarke, for his programmes Ugly House to Lovely House and Old House, New Home.
Jon Stanley, VP Marketing, Caesarstone UK says: "George has overseen some undeniably dramatic and visually spectacular transformations. Each of the featured kitchens has a very premium feel to it, whether it's using our elegant marble inspired surface designs, or products from our terrazzo and concrete ranges. The perfectly curated combinations of brass wear, cabinetry, paint and Caesarstone designs show just what can be achieved when the expert designer's eye is cast over a space."
George Clarke's Old House, New Home (S4 E2)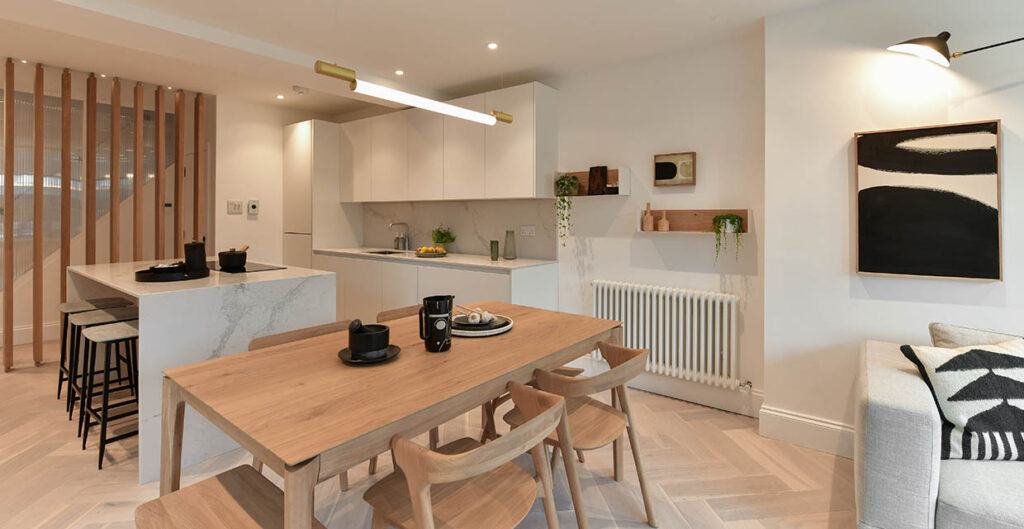 First aired on 27th June 2019, the latest episode sees the transformation of a turn-of-the-century terraced home into a modern space. Caesarstone's 5031 Statuario Maximus quartz worktops were chosen for this elegant design scheme composed of white walls, light grey fabrics, warm woods, and black accents.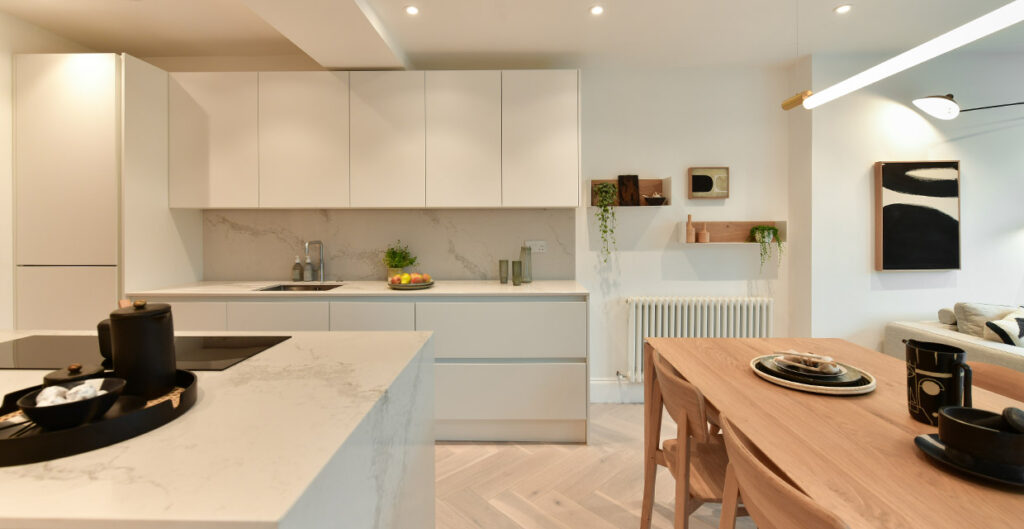 In this episode George Clarke discusses the difficulty of designing the perfect island unit: finding the right balance between size and functionality remains the main challenge for every homeowner. However, he does point out that the Caesarstone marble surface design is 'spot on,' suiting the contemporary look and feel of the overall scheme. 5013 Statuario Maximus features on the worktops, splashback and the large kitchen island in the open kitchen and living room.
George Clarke's Ugly House to Lovely House (S3 E3) – Tiled House in Saffron Walden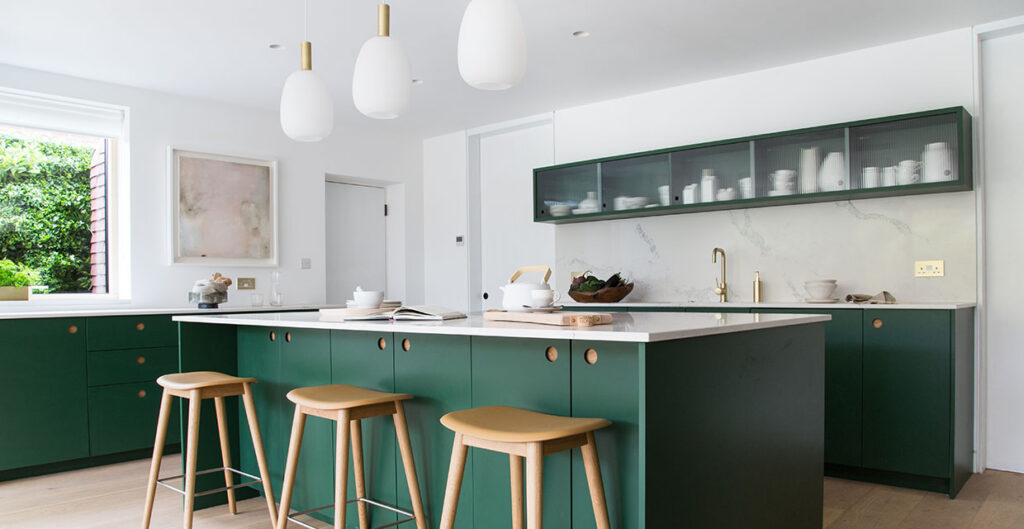 Perhaps one of the most exciting renovations of the 2019 series, the Tiled House (designed by architect Chris Dyson), follows the transformation of a tired 1960's property into a modern family home with an open plan living and dining space; The Tiled House also received a lot of traction on Instagram under a dedicated account where behind the scenes snapshots offer insight into daily progress made.
The owners were looking for a striking marble to match their chosen forest green cabinetry. It was after visiting Caesarstone's London Studio that the couple fell in love with the brand's highly popular Statuario Maximus; choosing it both for the kitchen island as well as the worktops and splashback. The doors and drawer fronts are by Naked Doors.
George Clarke's Old House, New Home (S3 E1) – Golders Green Home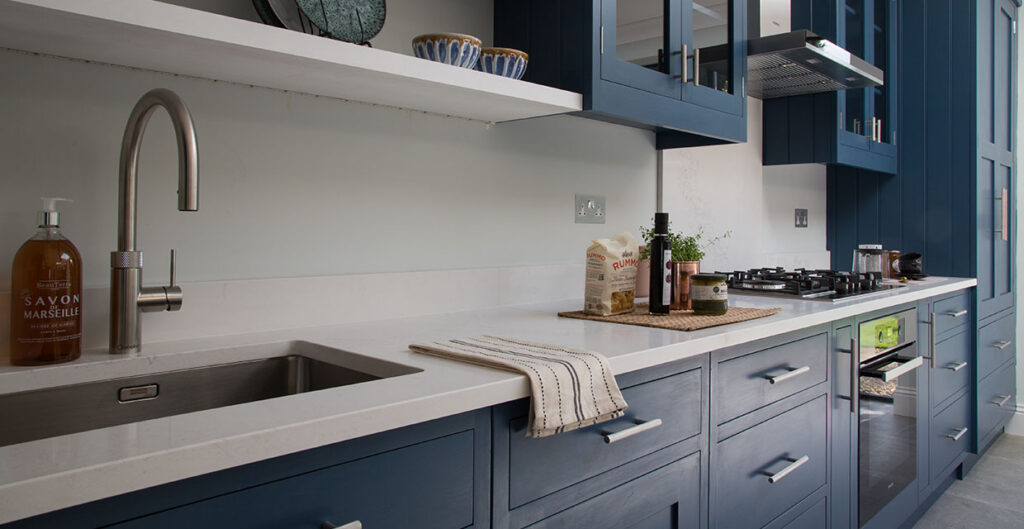 Embracing the grandeur of their 1970's home, the owners of this property took George Clarke's advice in knocking down a dividing wall to create one stunning, large kitchen and dining space. Floor to ceiling crittall-style windows and large skylights flood light into the open plan kitchen space featuring Caesarstone's 5131 Calacatta Nuvo worktops and an island with a striking waterfall end.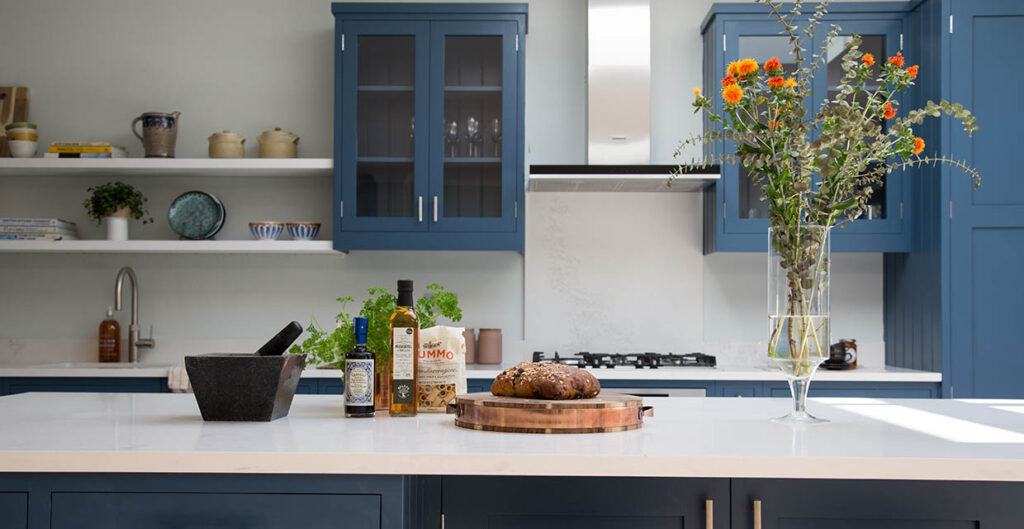 The owners wanted to achieve a timeless look and 5131 Calacatta Nuvo with its subtle marbling was the perfect fit for their scheme incorporating navy blue cabinetry with sleek metal handles.
George Clarke's Old House New Home (S2 E4) – Broadstairs Georgian Townhouse
Terrazzo- inspired Caesarstone Nougat worktops featured in the transformation of a lovely Broadstairs townhouse on George's Clarke's Old House, New Home in 2018. During the episode, ambitious new owners Mark and Natalie take on the challenge of converting what was once a grand period property – but in recent times an unused and neglected care facility with unusual 20th century modifications – into a modern family home.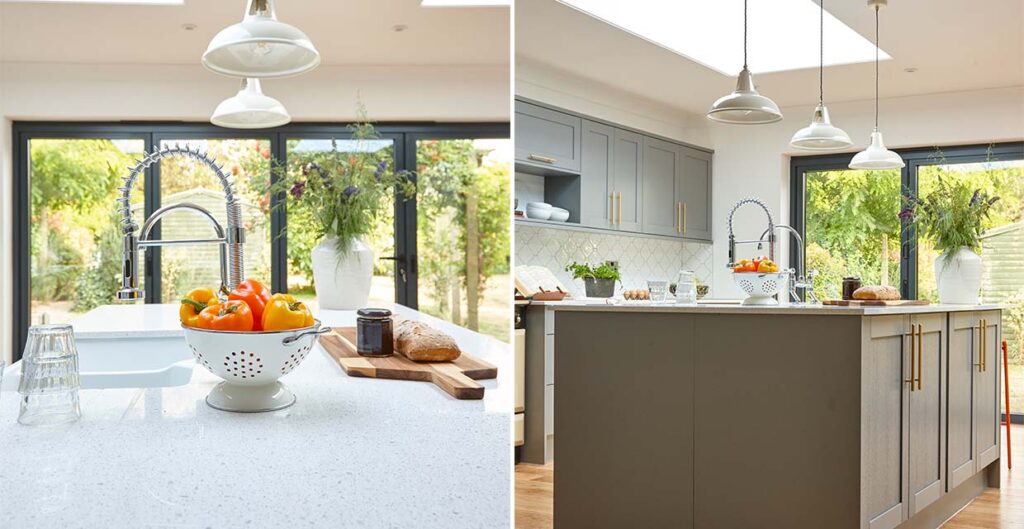 A fresh take on terrazzo transformed the quintessentially Georgian kitchen and reflected the modern vs. old fusion décor present throughout the property.
George Clarke's Old House New Home (S2 E1) – Farmhouse in Kent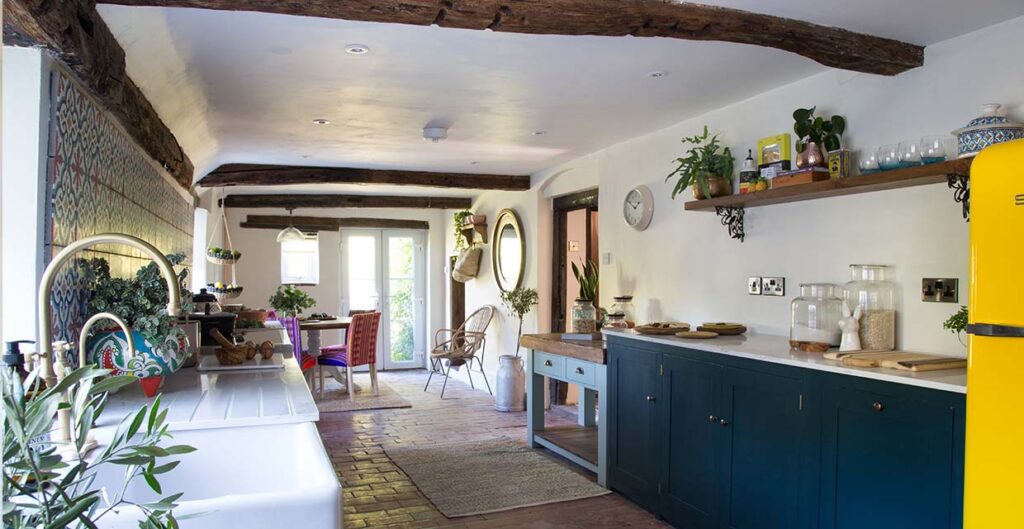 In this episode George Clarke works on a medieval farmhouse in Kent, with significant history. The main design challenge of this conversion was to strike the right balance between preservation and freshness. This galley-shaped kitchen had plenty of character with its extremely low ceilings, original red brick floors and exposed wooden ceiling beams and so the owners decided to opt for a shaker-style kitchen to keep within the mood of the existing structure.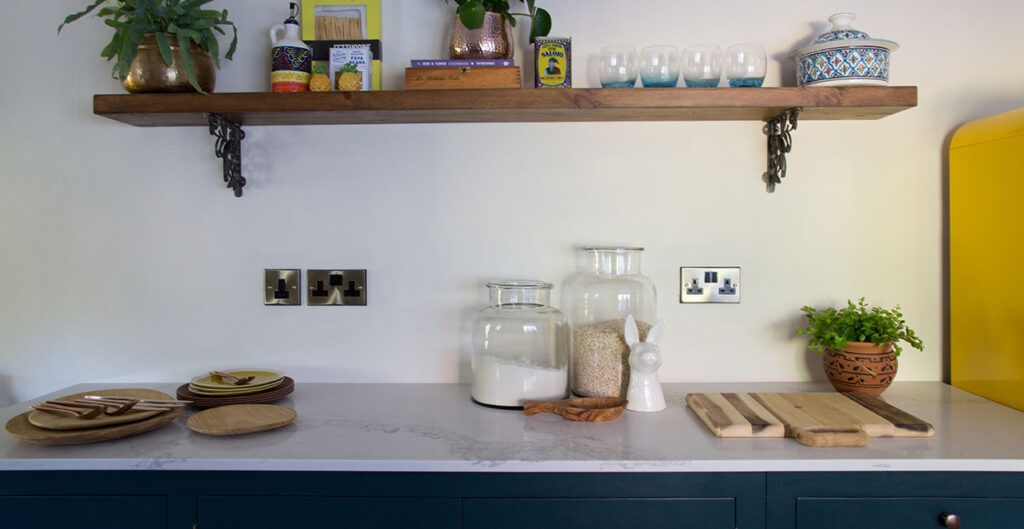 Caesarstone's timeless 5031 Statuario Maximus marble design was the perfect match for the navy cabinetry; allowing the natural light to bounce off its white base and brightening the otherwise dark room significantly.
Colchester Home Makeover – Ugly House to Lovely House (S2 E4)
5131 Calacatta Nuvo was chosen by the homeowners of this remarkable house transformation to feature on a large kitchen island in their open plan living and dining space. For this project George Clarke brought architect Chris Dyson abroad with a challenge to create a stunning conversion of what was a dull and dated 1960s house in Colchester. The architect designed an ambitious double-height extension at the back of the house, offering the family stunning views on the garden through floor to ceiling windows and doors. The spacious room is divided by an impressive kitchen island cladded in Caesarstone's Calacatta Nuvo, a delicate light marble design. Standing in front of the Caesarstone kitchen island George Clarke compliments the end-result: "This is the space you want to spend all of your time, this is the main living area. You haven't compromised on the size of the island. Lovely ceiling heights, lovely white walls, with a great contemporary feel to it, this is where all the value is, in terms of quality of life."
Photo Credits: Amazing Productions unless otherwise stated