Reading:
Caesarstone presents: Altered States by Snarkitecture at Fuorisalone 2018, Milan
Caesarstone presents: Altered States by Snarkitecture at Fuorisalone 2018, Milan
April 17th – 21st 2018, 10am-7pm
Press preview: Monday, April 16th, from 13:00-17:00
For the 6th time, leading quartz manufacturer Caesarstone returns to Milan's Fuorisalone, this year to unveil Altered States, the highlight event of their 2018 designer collaboration programme with New York-based collaborative practice Snarkitecture. Being this the year of Eurocucina, which takes place biennially, this year's collaboration explores the core theme of the kitchen island.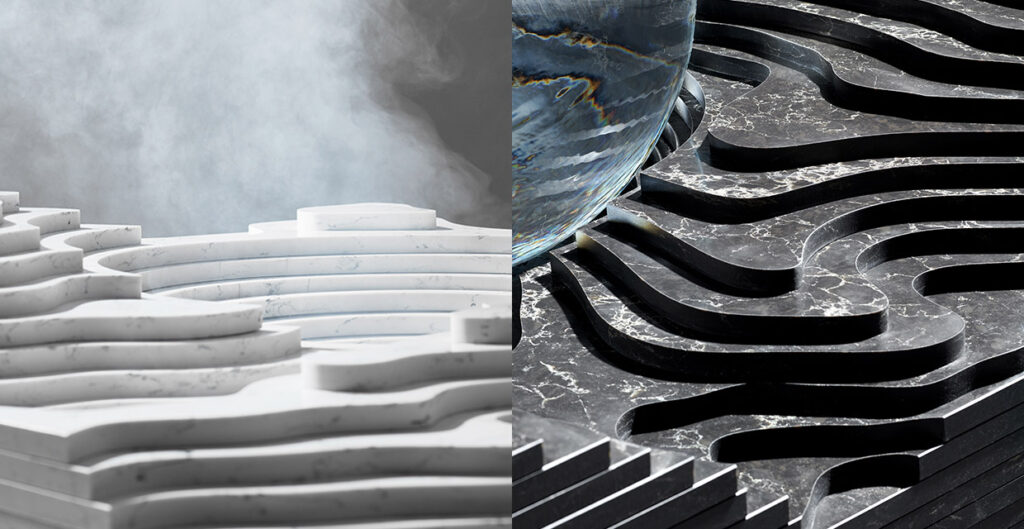 The Steam Kitchen Island and Ice Kitchen Island at IDS Toronto 2018, Images by Alex Lukey
"Our starting point was the Kitchen Island, which has transformed from a functional cooking area into the hub of the modern home, a space for entertainment, social interaction and performance." says Raanan Zilberman, Caesarstone CEO. "We asked Snarkitecture to create an installation that will inspire architects and designers to think about the future of the kitchen and use our material in new ways."
Snarkitecture looked at water as the most important "ingredient" in the kitchen, drawing inspiration from its changing states in nature (glacier, river, geyser) and in the kitchen (ice, water, steam) to create Altered States.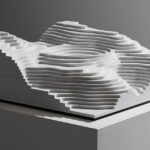 Showcased at the faded grandeur of Palazzo dell'Ufficio Elettorale di Porta Romana, open to the public for the first time during Milan Design Week, the installation guides visitors through an immersive experience of a conceptual kitchen island. At the centre of the space, a large circular kitchen island, made of Caesarstone White Attica, explores the changing states of water – ice, liquid and steam – stations. Caesarstone surfaces are used in layers, referencing natural topography as a metaphor for nature.
"Our aim for the Milan version of Altered States is to use ice, water and steam to create a mesmerizing collective experience around a kitchen island that has been designed around these simple elements. We took Caesarstone surfaces and turned them into something voluminous and engaging, further highlighting the strength and flexibility of the material. We look forward to inviting visitors to an incredible site in Milan, to explore, and interact within an unexpected and memorable environment." Snarkitecture
The project is supported by Liran Wizman, owner and founder of Europe Hotels Private Collection, owner of the Palazzo dell'Ufficio Elettorale di Porta Romana. The Palazzo is being developed by Wizman in collaboration with Ian Schrager and Marriott Hotels into The Milan EDITION Hotel, designed by Piero Lissoni.
Address: Palazzo dell'Ufficio Elettorale di Porta Romana
Corso di Porta Romana 10, 20122, Milan