Reading:
Caesarstone launches Whitelight Collection
Caesarstone launches Whitelight Collection
Caesarstone launches Whitelight Collection as consumer desire for clean, white natural stone surfaces continues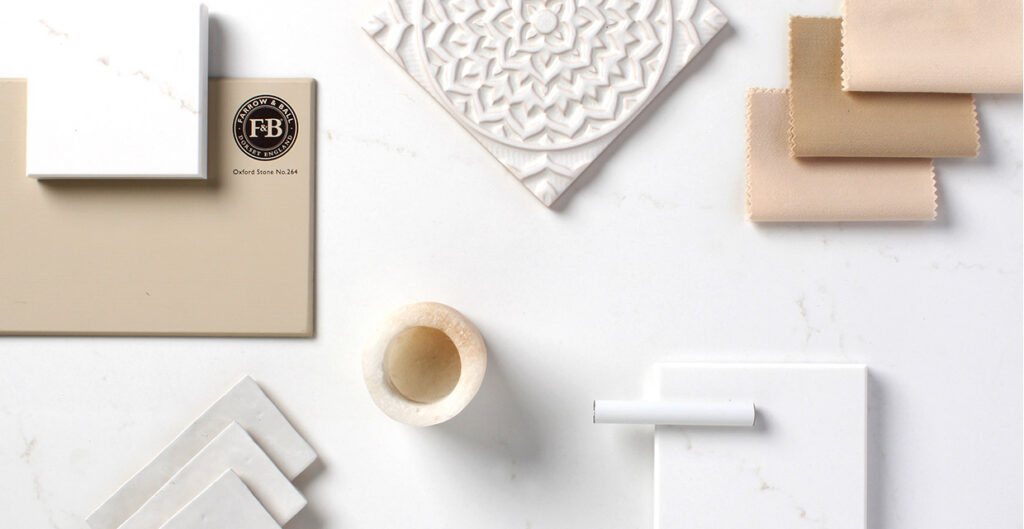 Pioneering surface brand Caesarstone has expanded its offering of high design, high-performance countertops with the addition of the Whitelight Collection. A true celebration of nature, the collection features a suite of lighter tones and organic forms that meet our growing desire to bring elements of the outside world into our homes.
The new designs of the Whitelight Collection showcase the individuality and complexity of natural stone and the variety of ways in which diverse marble motifs have been interpreted to meet this highly desirable aesthetic; a style that communicates luxury, comfort and cleanliness along with a timely connection to our external environment.
Over a decade ago, Caesarstone began introducing more organic looking designs to its surface collection; another first for the company that had pioneered the quartz industry 20 years earlier. These 'Supernatural' designs captured the very essence of the outside world, delivering all the subtly and elegance of natural stone without any of the drawbacks. All of this expertise has been called upon to develop the new Whitelight Collection
The Whitelight Collection comprises three brand new designs; 5171 Arabetto, 5112 Aterra Blanca and 5114 Calacatta Maximus. Each of theses surfaces embodies Caesarstone's drive for interpretive designs that emulate not just stone but the broader natural world.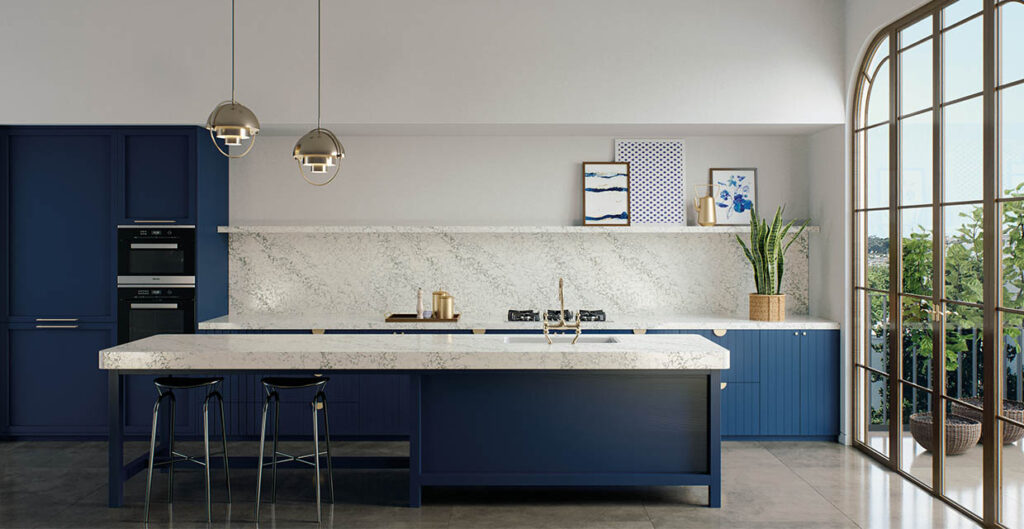 New designs sit alongside timeless Caesarstone classics, such 5031 Statuario Maximus, 5143 White Attica and 4141 Misty Carrera, meaning designers and homeowners can find the perfect light, natural styled Caesarstone surface no matter what kitchen style or price point.
Individually, these surfaces are unique; collectively, they offer an imaginative interpretation of the timeless desire for white marbles, albeit with the heightened technical properties familiar with any Caesarstone quartz product.
All Caesarstone quartz surfaces are non-porous, scratch resistant, durable, impervious to stains and easy-to-clean, with a 25-year warranty.
"Some things never go out of style, they are timeless, and lighter, whiter natural looking stone surfaces sit perfectly within this category", says Jonathan Stanley, VP Marketing for Caesarstone UK & EMEA. "Soft white tonal designs and marble motifs remain hugely desirable and our new Whitelight Collection, which launches this Spring, extends our product portfolio in this area, affording huge choice to consumers and designers. Already a very popular style, our increasing need to connect with the outside world and to bring it into our homes means that this look will continue to dominate kitchen design for the foreseeable future."
The Whitelight Collection will be available from 19th April 2021. Prices start from £410 per sq/m. For further information on the range, as well as details on how to order samples, contact [email protected]. You can request a sample here.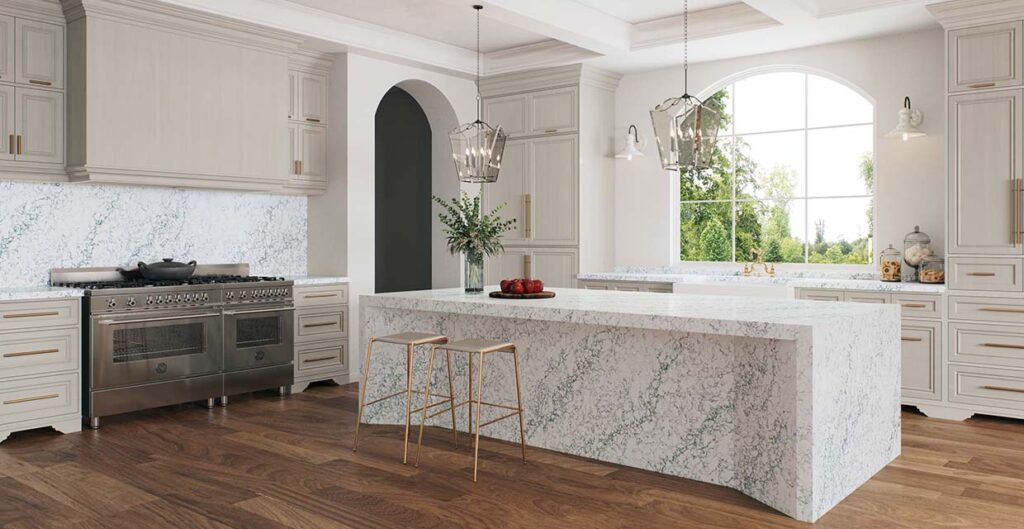 A swirling galaxy of dynamic grey stripes and speckles that span across a crisp white surface, capturing a complex composition of minerals in a delicate interlacing of jade and copper that thread throughout this impressive stone. The complex depths of forest green, jade and terracotta hues found in the movement of Arabetto's veining offer a foundation for a variety of colour schemes, from classical palettes built from neutral shades of white, grey or black, to more daring designs composed of bold colour and material combinations.
A misty white base that unravels with the softest strokes of earthy veining, swirling slowly into the stone that radiates a translucent glow, with warm, milky movements. Aterra Blanca, with its warm white base and subtle veining, is the ultimate expression of understated elegance, pairing effortlessly with a myriad of different colours and hues.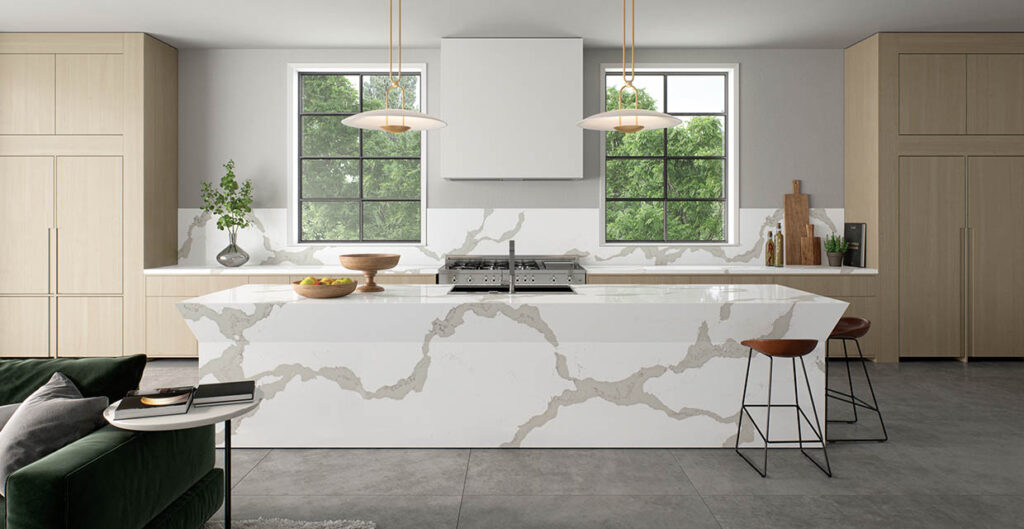 A pure white backdrop animated by bold flashes of a soft mix of warm neutrals, highlighted by golden-copper lines that provide a lavish look. Calacatta Maximus boasts a distinct style, channelling nature's infinite capacity to create beautiful and mesmerising organic forms. The surface has a pure white backdrop, which is animated by striking broad grey veining that traverses the surface and features delicately highlighted details in copper and gold. The oversize vein is an authentic reflection of natural mineral deposits found in the earth and meets the growing consumer desire for home surfaces that evoke the outside world.