Reading:
Caesarstone launches four new colours
Caesarstone launches four new colours
Caesarstone launches four new colours
Caesarstone cements reputation for colour and design innovation with latest launch
New for June 2017: Caesarstone, the leading manufacturer of premium quartz surfaces, has further harnessed its eye for emerging colour trends in the home by introducing a curated selection of four bold and exciting new colours into its UK collection.
Caesarstone has built and maintained a reputation as the global leader of the quartz surfaces market due to the high performance and reliability of its products. This is strengthened by significant investment into new product development and study into future design trends.
The four new colours, 4033 Rugged Concrete, 5043 Montblanc, 6046 Moorland Fog and 6313 Turbine Grey each appeal to both popular and emerging décor trends; from classic marbles and bold, rippled shades of grey to raw 'industrial chic', which is the stunning newest look captivating homeowners, architects and interior designers.
"There is a real shift towards contemporary style statements in the home and the right worktop product has a huge impact in any space given its large surface area," says Amir Reske, Managing Director of Caesarstone UK. "Our new colours are designed to not only look beautiful in the home but to also inspire the overall look and aesthetic of a room – whether it is paying homage to the natural veins of marble and granite, or the rough-hewn, industrial aesthetic of Concrete. Our new colours have been designed to challenge the norms of interior design.
---
4033 Rugged Concrete is the latest addition to the Concrete series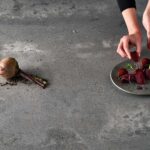 The Caesarstone Concrete series has embraced the trend for industrial décor and raw materials used in design. The addition of 4033 Rugged Concrete strives to push these boundaries even further. The Concrete Series comprises a variety of finishes that exquisitely achieve the coarseness of concrete, to create a real design statement. Not for the faint-hearted, Rugged Concrete will make a daring and bold addition to a room; its urban inspired design accentuated by dark grey tones and unique imperfections offers a textured look to its finish. Rugged Concrete will join existing colours 4003 Sleek Concrete, 4004 Raw Concrete and 4001 Fresh Concrete, allowing Caesarstone to offer the most comprehensive and inspiring concrete quartz finishes available for homes today.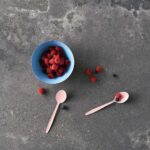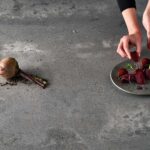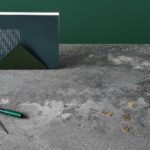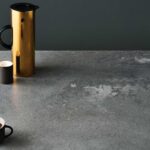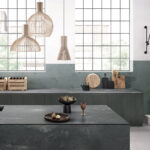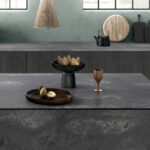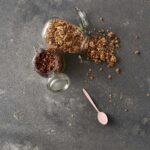 ---
5043 Montblanc from the Supernatural collection
Montblanc is inspired by the forms, colours and patterns found in nature and designed to replicate the beauty of natural stone. It is characterised by a harmonious light grey base infused with strikingly sporadic rich, warm lines.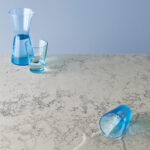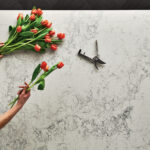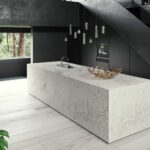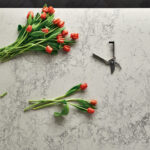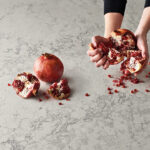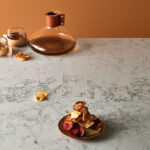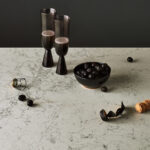 6046 Moorland Fog from the Supernatural collection
The Supernatural Collection is taken one step further with this new granite inspired quartz finish. Moorland Fog exhibits a refined aesthetic of soft hues embellished with light and dark veining that indulges in granite's unique properties and structure.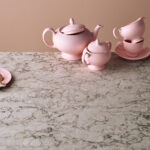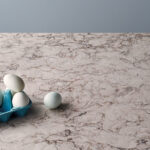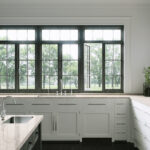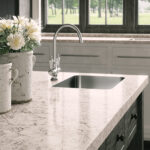 6313 Turbine Grey from the Supernatural collection
Turbine Grey joins Moorland Fog in the new romantic Granite inspired series of the Supernatural Collection, a range that combines rural aesthetics with contemporary style. It perfectly characterises the unique nuances of granite with a blend of intricate veins and textures, and is finished in a bold & dark grey.