Reading:
Caesarstone collaborates with Dutch designer Marije Vogelzang, exploring the connection between food and design
Caesarstone collaborates with Dutch designer Marije Vogelzang, exploring the connection between food and design
Luxury quartz brand Caesarstone recently enjoyed a successful collaboration with award-winning Dutch designer Marije Vogelzang. Caesarstone explored the inherent relationship between food and design by creating an interactive platform at Interior Design Show (IDS) 2019, that offered its audiences the chance to experience different aspects of this basic yet fundamental aspect of human life first-hand. From food production to meal preparation and food sharing, the project dived deep into the thoughtfulness of all practises gravitating around food.
Caesarstone, leader in the quartz surfaces industry, has long recognised the topical role of conversations around food and the trends gravitating around it; not least due to increasing exposure of the food industry's impact on environment. The project, titled "Seeds by Marije Vogelzang presented by Caesarstone", highlights the importance of thoughtfulness humans should have in their kitchens, whether in meal creation or conversation shared with their family and guests.
The relationship is represented through the journey of the seed. The honeycomb-like installation took visitors on a sensory journey through a structure designed to eliminate any external noise and disruption and instead enable them to focus on memories, human connection, happiness and the environment.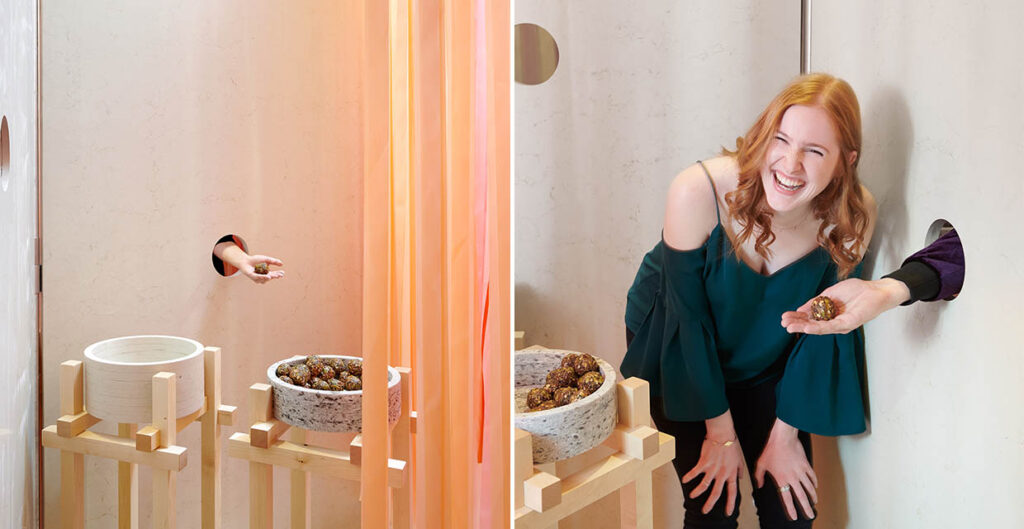 "In this rushed and digital time, food can be our connector, through our senses, to the essence of what life is. Emotion, connection and wonder. My collaboration with Caesarstone highlights the interactive aspect food design provides," Marije Vogelzang.
A CS Spokesman said: "Caesarstone's collaboration with Marije Vogelzang's has got off to a great start with the immersive installation at IDS. It was an extremely popular attraction at the show and provided a source of playful joy for visitors. Marie's distinct point-of-view of the intersection of food, thoughtfulness, and design breaks down the functions in the kitchen into powerful forms and ideas, which define human connections. There's a powerful connection between people's interaction with food and the platforms that facilitates those exchanges."
Over the years Caesarstone has built a strong reputation within the design community by collaborating with some of the fellow industry leader brands and names such as Tom Dixon, Nendo, Snarkitecture, Jaime Hayon and Sebastian Herkner to name a few.