Reading:
Caesarstone unveils fifth new product in 2020;
Calacatta Maximus
Caesarstone unveils fifth new product in 2020;
Calacatta Maximus
Caesarstone, the leading designer and manufacturer of premium-grade quartz surfaces, continues to expand its offering with the new opulent design, 5114 Calacatta Maximus, the fifth new product from the brand this year.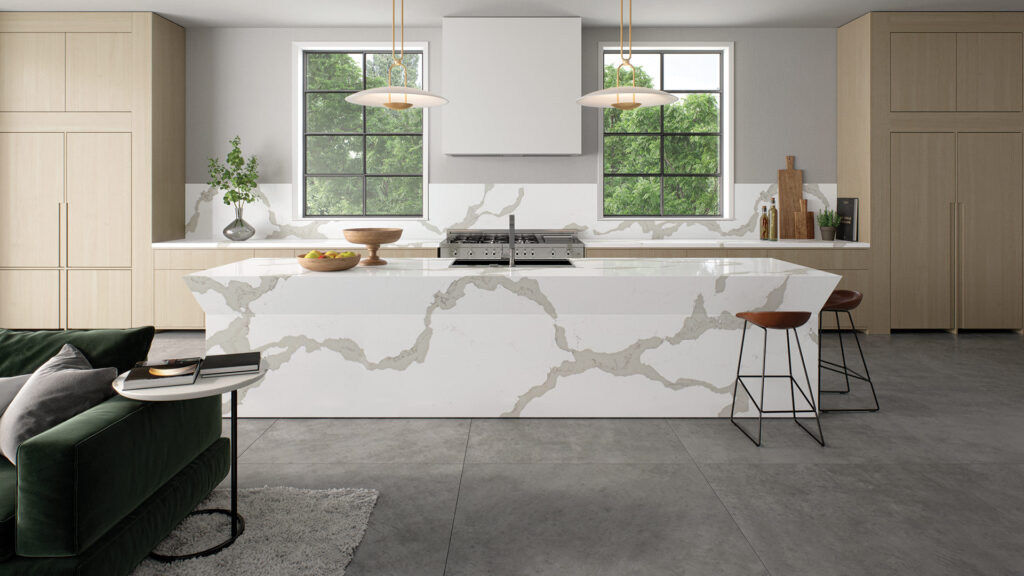 Calacatta Maximus boasts a distinct style, channelling nature's infinite capacity to create beautiful and mesmerising organic forms. The surface has a pure white backdrop, which is animated by striking broad grey veining that traverses the surface and features delicately highlighted details in copper and gold. The oversized vein is an authentic reflection of natural mineral deposits found in the earth, and meets the growing consumer desire for home surfaces that evoke the outside world.
Calacatta Maximus was designed by Caesarstone's in-house team led by Mor Krisher, who conceived the brand's Supernatural Collection and the award-winning Metropolitan Collection. It is manufactured at Caesarstone's main manufacturing facility using breakthrough proprietary technologies.
Jon Stanley, Caesarstone's VP of marketing added, "We are committed to continuously bring new innovation in technology and surface design to the market and a Caesarstone launch will always grab the attention of designers and consumers. Calacatta Maximus is a timeless design and this exciting new surface extends our portfolio, offering consumers a pure and luxurious aesthetic wrapped in the functionality that our brand is globally known for.
Notes to editors:
Calacatta Maximus is available to order now and comes in standard size slabs, 20mm and polished finish. Available from www.caesarstone.co.uk from £550/sqm.
Caesarstone launched three new dark shades under the banner, 'The Art of Darkness', in August this year; Black Tempal, Empira Black, and Oxidian. This new theme presents a range of captivating hues, bringing warmth to the home. The Caesarstone Dark Collection is available nationally. For further information on this range please click here.