Reading:
Caesarstone UK's KBB debut a resounding success
Caesarstone UK's KBB debut a resounding success
Impressive industry feedback on Caesarstone's award winning range of quartz surfaces
1500 visitors to the stand – 1000 coffees served
Private viewings of innovative new products due to launch in Spring
KBB 2018 was a resounding success for Caesarstone UK, the global leader in premium engineered-quartz surfaces. That is the verdict from the brand which only 15 months ago launched its direct distribution business in the UK, having ended its first year by meeting all growth KPIs and with several industry awards under its belt.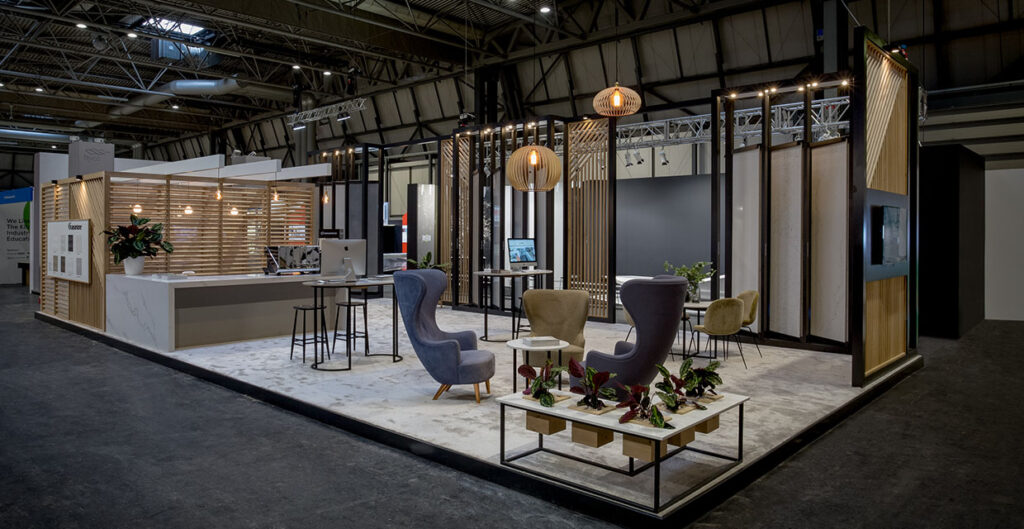 "KBB18 was a highly successful show in every sense," comments Amir Reske, Caesarstone UK Managing Director. "As well as meeting numerous existing contacts, the team sat with a substantial number of new partners, all of whom were looking to grow their business with Caesarstone UK."
Star products on show included Caesarstone's brand new 4011 Cloudburst Concrete, which follows on from its multi award-winning 4033 Rugged Concrete launched last June. There was also a private viewing of its brand new colour range launching in May.
The stand itself reflected Caesarstone's fine eye for design detail; from the plush carpet welcoming weary feet to the indulgent Tom Dixon furniture that played homage to past brand collaborations and partnerships.
Commenting on the new range, Jon Stanley, VP Marketing for Caesarstone UK says, "Design innovations sits at the heart of the Caesarstone brand and that is clearly visible in our products as well as our environments. Rapidly growing interest in our product range adds credence to the widely held view that we have the best colours on the market and our new colour launch in spring will serve to reinforce this position."